Cyclone Vardah LIVE updates: 4 killed in Tamil Nadu; govt issues red alert, NDRF teams deployed
Photo by Charles Fernandes
Cyclone Vardah has touched ground in Chennai and will cross over in the next 3-5 hours, after which it will move westward and is likely to emerge in Arabian sea on December 14. According to the NDMA, the wind speed will gradually decrease to 60-70 KMPH during the next 3 hours. The cyclone will turn into 'cyclonic storm' in the next 3-4 hours, said the India Meteorological Department (IMD). Earlier, the cyclone which is passing over the city of Chennai was termed as a very severe cyclone, said IMD. Tamil Nadu is being pounded by the cyclone Vardah and people have been advised to stay indoors. Four people have reportedly been killed in the state. Precautionary measures have been taken by the authorities. Tamil Nadu, which is receiving heavy rainfall, has been under alert for the last ten days.Home Minister, Rajnath Singh, spoke to Tamil Nadu CM O Panneerselvam and enquired about the situation in the aftermath of Cyclone Vardah crossing Chennai and Tiruvallur.
A team of 7 NDRF, 2 each of SDRF and Army columns have been deployed for precautionary measures. The government has issued high red alert. SriLankan Airlines said all its Chennai-bound flights were cancelled till Tuesday morning after authorities issued a red alert due to severe cyclonic storm "Vardah" which made a landfall in Tamil Nadu. The services at the Chennai Airport has been suspended till 9 pm on Monday.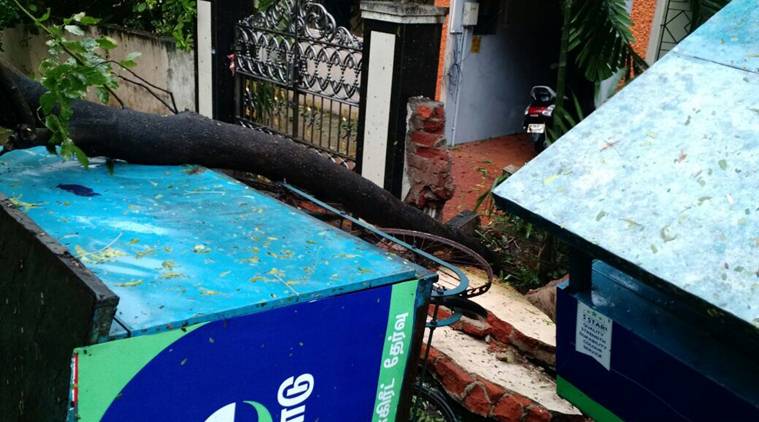 Photo by Charles Fernandes
Rainfall will continue at multiple places for next 36 hours. Schools and colleges in Kanchipuram and Tiruvallur have also been ordered to remain close on Monday. Fishermen were also asked to not venture out into the sea since November 30. The cyclone, which originated in southern Thailand, has claimed about a dozen lives there and is now moving towards India. Earlier, tourists at Andaman and Nicobar islands were stranded there because of sudden change in the weather. They were later rescued by the Indian Navy.
National Disaster Relief Fund (NDRF) DG, RK Pachnanda, has said that they are closely monitoring the situation and teams have been propositioned to act swiftly if any untoward incident takes place. The Tamil Nadu government has said that 7357 people have been evacuated to 54 relief centres safely so far.
Bron:
http://indianexpress.com/article/india/cyclone-vardah-live-updates-tamil-nadu-andhra-pradesh-puducherry-storm-breaking-news-met-department-ndrf-emergency-4422660/
| Gewijzigd: 26 januari, 17:54 uur, door Joyce.s
Govt takes precautions for nuclear plant as cyclone makes landfall in Tamil Nadu
V Srinivasulu/HT photo
The government has taken all precautions for the safety of Kalpakkam nuclear power plant as Tamil Nadu faces a severe cyclonic storm Vardah on Monday.
"All precautions are taken at nuclear plant Kalpakkam to face Vardah. So far all is well and plant operation is normal. The plant is in touch with the India meteorological department," the National Disaster Management Authority (NDMA) said in a statement.
Kalpakkam is in Kancheepuram, which along with Chennai, Tiruvallur and Villupuram in northern Tamil Nadu, has been pounded by heavy rainfall and high velocity winds.
The Nuclear Power Corporation of India-run power plant has two operational units which produces 440 MW power while another plant of 500 MW is undergoing construction.
The wind speed of cyclone Vardah reached 110-120 kmph as the landfall process began.
People are advised to remain in safe places and cooperate with the state government officials and disaster management agencies, the NDMA said.
As many as 19 team of national disaster response force (one team comprises 35 personnel) have been deployed in coastal areas of Tamil Nadu and Andhra Pradesh to deal with any situation arising out of the cyclone's landfall.
Fishermen are advised not to venture into the sea along and off south Andhra Pradesh, north Tamil Nadu and Puducherry coasts during the next two days.
So far 7,354 people from Tamil Nadu living in areas of possible landfall have been shifted to relief centres.
Bron:
http://www.hindustantimes.com/india-news/govt-takes-precautions-for-nuclear-plant-as-cyclone-makes-landfall-in-tamil-nadu/story-7VxeH4nXS2YQ5iA0aIUaOK.html
| Gewijzigd: 26 januari, 17:55 uur, door Joyce.s